Spring Ahead
Unless you're from Arizona, eastern Indiana or Hawaii...you've sprung ahead. I love getting this extra sunlight at the end of the day since I'm not a morning person and would much rather work into the night. Spring is showing in my garden too! These are the beginnings of day lilies in my front garden area.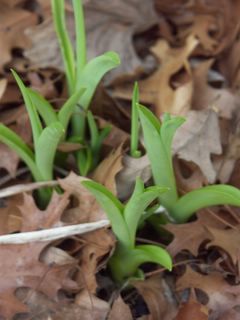 I did oodles of yard work today including cleaning out my garden, no more leaves! I picked up these cute toadstools yesterday while in search for the Chibi. The high temp today was 69º, it was downright balmy in MN!
This week's installment of a young girls journal:
This week in 1986
Sunday lay out, Nicole ungrounded off phone
Monday first storm since Nov 18 hail, send Steve a postcard
Tuesday take out 3rd earring, go to Kandi's after school, send Steve a letter
Wednesday Lucky Day, go home early 11:00am
Thursday End of 3rd quarter, go to Rosedale to get Kandi's present, detention for tardies
Friday No school, go to movie Lucas, go to Riverplace
Saturday go to Rosedale w/Kandi, see Steve & Nicole together, get Guess? bag, got Circus & Rocks, Kandi came over, go to rings (party) w/ Mandy, Laura & Debbie, Tim drove us around, home at 12:30
Boy did I keep track of weird crap.