Schoolhouse Rock Rally
This morning I took part in a motorcycle rally, sounds weird but it's fun. It's like a scavenger hunt of sorts where you earn points for going to different places. When you go to a destination there's usually a question or task that you need to do. The route is published a day or two in advance and then the morning of the ride (more like 15 minutes before) we're given a bonus sheet, which for me usually throws off my whole plan. I like doing the rallys because it gets me exploring places I wouldnt normally go plus it's a fun way to get miles on my bike. I came in next to last this time with 5,340 points. My goal is never to win, only to have fun.
This is a photo of my friends Tony & Becca who borrowed this sidecar-bmw-remake-Russian-type bike. They had a good time and ran a great rally, one place ahead of me :-)
This is Karl rethinking his plan once we got the bonus locations. He ended up winning the rally with over 7,000 points. What did he win? Well, we each pitched in $5 so he wins all the cash plus he has to plan the next rally (this is why I don't try to win).
The starting point, under the Hennepin Ave bridge in Minneapolis.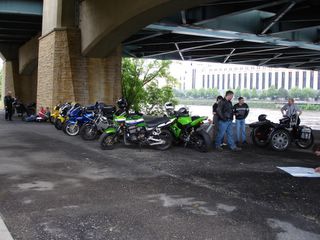 Luckily the rain held out until about 3 minutes before I finished. It was a great day.