1 Year Blogiversary Contest!
October 15th marks my one year blogiversary so I thought I'd have a giveaway because who doesn't love free stuff? Post a photo of your most favorite thing you've knit onto your blog, post a comment here with the link and I'll randomly draw a winner. Contest closes Midnight on Saturday October 15th and I'll draw a winner on Sunday.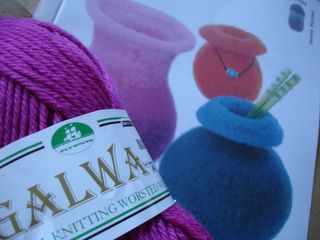 One skein of Galway and a cool new pattern for felted vases! Who knows...maybe I'll have so much fun I'll give away something else too!
OK, I'll start...my Squggle slippers. I love the colors of these and the Squiggle tops. The Fiber Trends pattern was easy to follow and it was a quick knit, plus I'm in love with felted things.